Luisa Fechner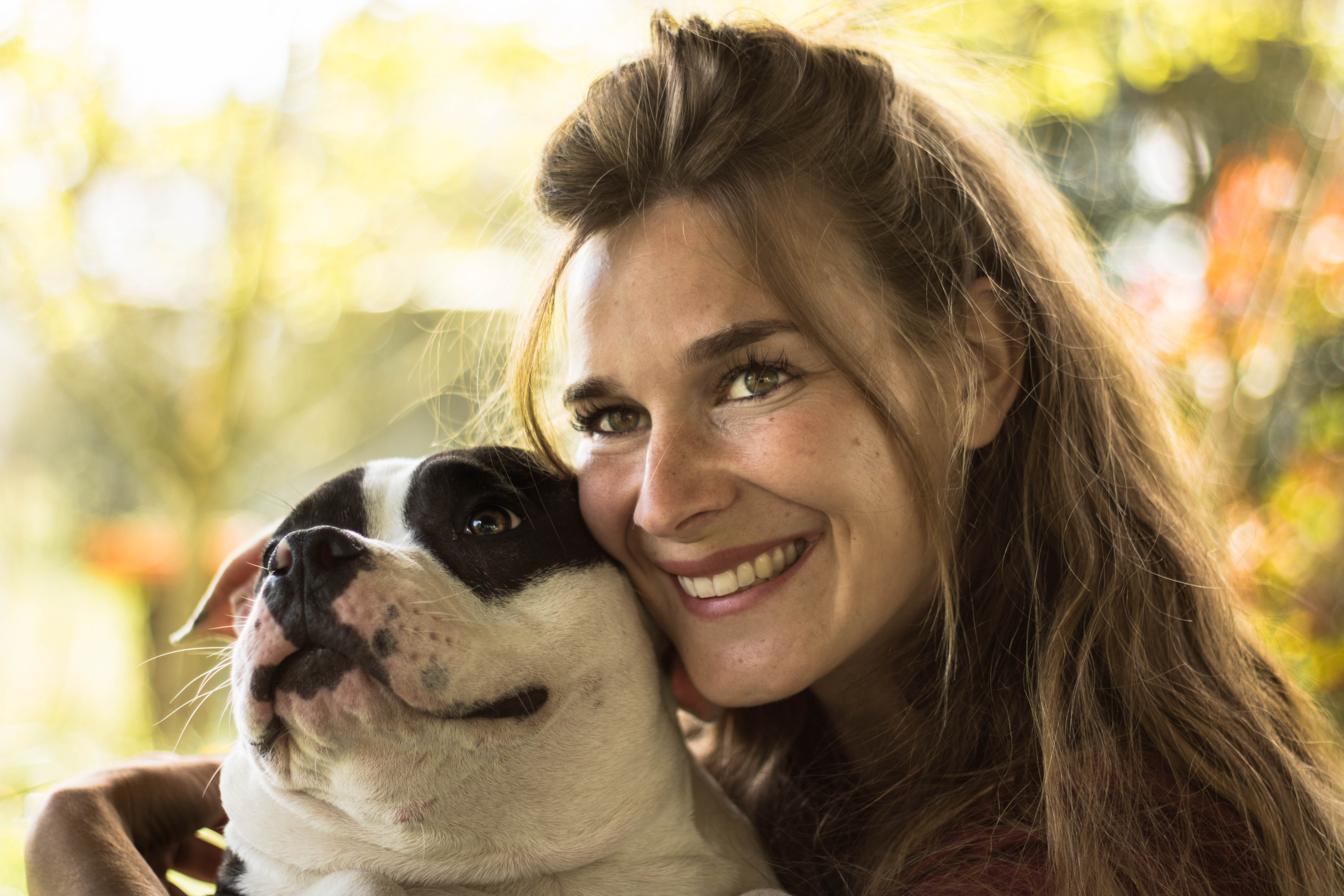 After finishing her first cycle of studies in languages and literature, with a masters degree in translation, Luisa was still not quite happy with her line of work. Even while working in her area of interest such as the interpretation of Dr. Ian Dunbar's seminar in Portugal and S.Paulo – Brasil or the Karen Pryor seminar in Lisbon, it seemed there was something missing. Therefore she launched herself head first into her second degree – this time Veterinary Medicine.
Having finished that course of studies in 2017, she continued to invest in her concept of life-long learning in the area of dog training and animal welfare with several traineeships in kennels and various seminars.
She is the member of the Clan you should contact if you want to speak native level English or German, or if you really want to hear about "Potentially Dangerous Dogs", as she is a great advocate for "punish the deed, not the breed".
As could be expected, she is the proud pet-parent of a dog called Pit bull by society, and Baby Winston by herself, with whom, since 2006, she has been taking part in sport events (obedience and gameness) and also numerous obedience and doggy-trick demonstrations with Associação Pit Bull Oeste, an organisation promoting breed equality.
She loves people and big-headed dogs, which is why she can very often be found in a large group, chatting away.
Jessica Barbeito
Having finished her master's degree in veterinary medicine at the FMV – University of Lisbon with special interest in the areas of parasitology and animal behaviour, Jess decided that besides being a clinician she really wanted to be part of a project where dogs could be truly happy.
She is the member of the Clan who is most dedicated to our smallest clients, as she is the pet-parent of a 2kg Chihuahua called Axl. Axl is an adorable little guy who does just as many doggy tricks as the big dogs. Yorkies, poodles, small mutts, they are all in good tiny company with auntie Jess who makes sure everyone is safe and has fun!
Besides being one of our resident veterinarians, Jess is also the person behind most of our photographs and videos, providing the pet-parents with reliable updates of their doggies!
Pedro Moleiro
Pedro is our dog trainer. Having started off in more conservative dog schools dedicated to sport and workdogs (mainly Mondioring), he qualified as a CPC certified decoy but quickly realized how important it was to invest in solid training – theory and practice, with modern science-based tools and techniques.
He enrolled in the first edition of a year long Dog Trainer's Degree with the FMV-ULHT, which incidentally was also the first and – to our knowledge – only degree of this sort approved by the Directorate General for Higher Education (DGES).
When his Belgian Malinois Cougar suffered a neck injury after winning several individual competitions, which opened the way for the Portugal Cup in Mondioring, Pedro decided to end his sports career and, with Cougar as a retired gentleman, proceeded his work in social obedience and behaviour modification.
Certified by the DGAV (the Portuguese National Authority for Animal Health) in 2017 as one of the few trainers qualified to train Potentially Dangerous Dogs in Portugal, this is just an addition to the dog training he has been doing since 2004.
Pedro's most important skill is his capability of adjusting his approach to each dog individually, promoting highly personalized training. For Pedro, more than getting hung up on the breed, it is important to look at the particular dog and it's pet-parent. The bond between dog and pet-parent (handler) is the ultimate goal, and also the reason why we do not agree with, or accept, internships for training reasons. You are unique, your dog is unique, and you need to learn how to live with your dog in harmony – the dog trainer is a helper and an instrument to reach that balance.
Carlos Miguel
Leaving behind a military career, Carlos got degree in Business Management, which he finished in 2017, and is the member who keeps the others from committing business suicide by decapitalization and management ineptness.
He has been a committed member of our dog related activities since 2008, and is currently enrolled in the course "How To Run a Doggy Daycare" accredited by the International Association for Continuing Education and Training (IACET), to complement his training with specific knowledge.
Carlos does most of the paperwork and organizes nearly everything into an Excel table, besides competently aiding in difficult decisions such as "Should we foster one more pit bull?" (The answer was "If you do, I resign!").